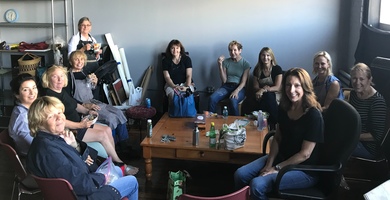 BIO
During the spring of 2010, five artists came together to paint the model from life.
We rented in a tiny, dark room in the Beardsley Gallery of Fine Art in Wilton CT. The desire to paint superseded the obstacles.
In September 2010 we formed the Beardsley Guild of Artists.
We solidified our intentions and defined our Guild as comprised of professional artists who came together to share space, ideas, work from the live model and above all, share the pursuit of excellence in the realm of traditional art.
In a year's time our commitment was strong enough to necessitate a more suitable studio space and we moved to our current location.
Our membership grew and we renamed ourselves the Schoolhouse Guild of Artists.
Today, as we reinvent ourselves, we are the New Street Guild of Artists; thirteen members who are active in their own artistic endeavors but come together exclusively to paint the model from life two full days a week, year round.
We offer each other not only a supportive community and environment, but a sanctuary in which to share our passion and continue our creative journeys.